Dynasol Group Once Again Achieves Gold Status in the EcoVadis Sustainability Assessment
Dynasol Group achieves the Ecovadis Gold Medal 2020.
SUSTAINABILITY
DYNASOL GROUP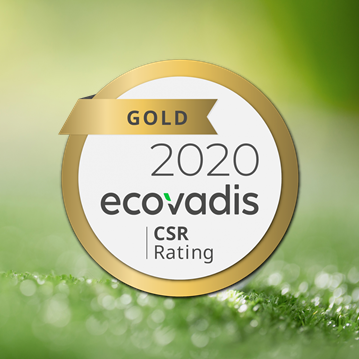 Dynasol Group achieves the Ecovadis Gold Medal 2020.
MADRID, Spain., May 29th, 2020 – Dynasol ­Group communicates its 2020 sustainability rating from EcoVadis. As in the last evaluation dated on 2018, Dynasol has achieved a Gold recognition medal.
"We are proud to achieve the EcoVAdis medal Gold rating once again" said Felipe Varela, Director of Dynasol Group. "it Demonstrates our commitment to sustainability, based on respect for the environment, work and human rights, ethics and a sustainable supply chain. We are positioned in the top 98 percentile of our industry".
At the Dynasol Group, sustainability is top priority when working to meet the demand of our rubber and chemicals. We apply the global concept of Sustainability to each location in which we operate in search of the best solutions to preserve the environment of all our Centers. We are committed to the protection of the planet through a sustainable management of natural resources in order to ensure their availability and quality for future generations through ethical and transparent behavior.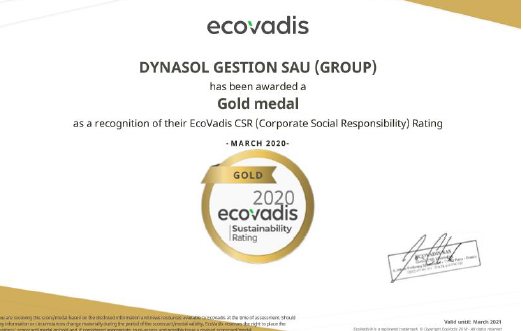 About Dynasol Group
Dynasol Group is a JV between KUO and Repsol and is one of the world leaders in the Synthetic Rubber and Rubber Chemical markets with revenues estimated at up to more than 700 million dollars and a production of 500,000 tons per year.
The JV consists of seven different nationalities and has several production centers located in Spain, Mexico and China. Our sales offices serve more than 500 clients in 70 different countries.
For additional information of Dynasol's Group sustainability initiatives, please download Dynasol latest sustainability plan at: https://dynasolgroup.com/wp-content/uploads/2020/03/AF-Global-Sustainability-Plan-2020-2.pdf or contact sustainability@dynasol.com
About EcoVadis
EcoVadis is the world's most trusted provider of business sustainability ratings, intelligence and collaborative performance improvement tools for global supply chains. Backed by a powerful technology platform and a global team of domain experts, EcoVadis' easy-to-use and actionable sustainability scorecards provide detailed insight into environmental, social and ethical risks across 198 purchasing categories and 150 countries. Find out more at www.ecovadis.com.